Portfolio
The inability of embracing a white smooth cotton paper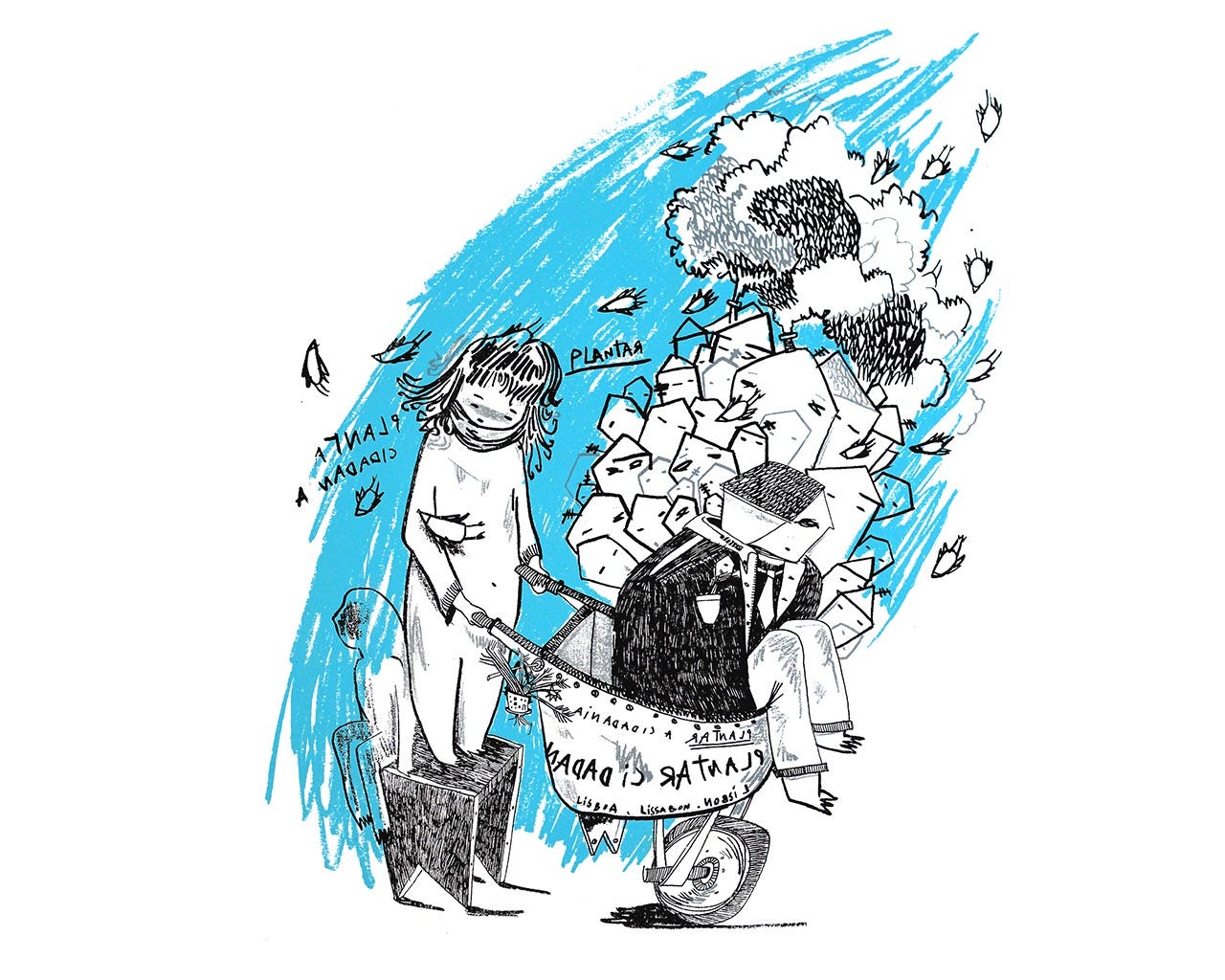 Social Practices
Creativity and poetry allow us to built bridges, on wheels, fabric or paper. I believe, creative bridges will last longer than any wall.
... in 2019, 2020, 2021, 2022
Siebdruck-workshop
und
Siebdruck Aktion

Siebdruck-workshop
23. Sep 2022 von 17 bis 20 Uhr
am Interkulturelles Haus - Schöneberg

Siebdruck Aktion
24 Sept 2022 von 15 bis 18 Uhr
Staßenfest Steinmetzstraße
Content from Vimeo can't be displayed due to your current cookie settings. To show this content, please click "Consent & Show" to confirm that necessary data will be transferred to Vimeo to enable this service. Further information can be found in our Privacy Policy. Changed your mind? You can revoke your consent at any time via your cookie settings.
Consent & Show
"Sonha no Coletivo" - "Dream it together" - "Träume es zusammen"

"Água para todos!" foi ponto de partida para a brincadeira que é na verdade um assunto muito sério.
Content from Vimeo can't be displayed due to your current cookie settings. To show this content, please click "Consent & Show" to confirm that necessary data will be transferred to Vimeo to enable this service. Further information can be found in our Privacy Policy. Changed your mind? You can revoke your consent at any time via your cookie settings.
Consent & Show
März 2022: Wir sind die Stadt, zusammen (DE)
Am FELD Theater am 20. März ist es wieder soweit: der internationale Welttag für Kinder- und Jugendtheater findet statt!
Sept 2021: BIG – Guimarães Illustration Biennial (PT)
Artist selected for illustration exhibition
Content from Vimeo can't be displayed due to your current cookie settings. To show this content, please click "Consent & Show" to confirm that necessary data will be transferred to Vimeo to enable this service. Further information can be found in our Privacy Policy. Changed your mind? You can revoke your consent at any time via your cookie settings.
Consent & Show
May 2020: Espero que comece... Histórias de Musear | Calouste Gulbenkian Foundation, Lisbon (PT)
Wonderfull Danced and Illustrated story with Diogo deCalle, Joana Manaças and Zé Bernardino
Content from Vimeo can't be displayed due to your current cookie settings. To show this content, please click "Consent & Show" to confirm that necessary data will be transferred to Vimeo to enable this service. Further information can be found in our Privacy Policy. Changed your mind? You can revoke your consent at any time via your cookie settings.
Consent & Show
Nov 2019: Braga em Risco | Atelier SER presents CommonLandscape in Braga (PT)
PERFORMANCE "COMMONLANDSCAPE"
- 9th and 10th Novembre | Rua do Castelo, BRAGA
Content from Vimeo can't be displayed due to your current cookie settings. To show this content, please click "Consent & Show" to confirm that necessary data will be transferred to Vimeo to enable this service. Further information can be found in our Privacy Policy. Changed your mind? You can revoke your consent at any time via your cookie settings.
Consent & Show
Sep 2019: Mexe | Atelier SER co-creates Mapa de Vontades in Porto (PT)
Atelier SER performed at Mexe, International encounter of Art and Community. Porto, 20 & 21 September.
Content from Vimeo can't be displayed due to your current cookie settings. To show this content, please click "Consent & Show" to confirm that necessary data will be transferred to Vimeo to enable this service. Further information can be found in our Privacy Policy. Changed your mind? You can revoke your consent at any time via your cookie settings.
Consent & Show
Set 2019: Conversas na Rua | Atelier SER performs with Bicicleta MANIFESTA, Lisbon (PT)
Diogo deCalle was to take part at Conversas na Rua 2019. Lisbon, September.
I am a multidisciplinary artist working and living both in Lisboa (Portugal) and Berlin (Germany).